Operations
·
Malmö, Marseille
Product Support Professional - French speaking
Bonjour à tous les amis qui parlent Français! 👋🏽
(That is really how far my google translate french can go, let's switch to english)
We are looking for our next french speaking product support to join our amazing team of product support heroes! 😍
This is an opportunity for you who love to solve problems, is not afraid to dig a little deeper when facing an issue and who loves to help people. You up for the challenge?
Of course you are, hit apply and let's continue the dialoge! 

Welcome to GetAccept - we promise it will be challenging, rewarding and most of all fun!


Being a Product Support Professional
"Hello. My customer can't sign my document! 😡"
- Kim, user of GetAccept

How would you respond?
👉 Here is how we see it! As Product Support Professionals we try to relate to the person behind the support case, in this case Kim, and understand what issues she is experiencing. Our aim is to connect with Kim over the product that we have in common. We try to understand what's gone wrong, and we want to make sure that Kim doesn't feel dumb for asking. We know just how frustrating it can be when something isn't working, so we always try to find the root cause of the problem as fast as possible.
As Product Support Professional you will be our customer's go-to and relate to them from a users point of view, by understanding that they might not have the same knowledge as you have in our platform. Sometimes it's a matter of navigating in the platform, answering questions related licenses or a technical issue. Of course, our technical specialists and product team will be happy to help you out when things get too techy!
We have a chat based support, which means that communication with our customers are primarily in written form, sometimes very fast paced and always in a language that is warm, personal and friendly. This is an opportunity for who who thrives in a challenging, fast paced environment where you get to help fellow GetAccept users in need! 
 
Join the family 🧡
We believe in Team Wins! As Product Support Professional you will work together with Dalle, Bjarke, Gustaf, Therese and our international support team. We also collaborate closely with our technical support team, team of engineers, designers and sales professionals. Together we strive towards excellence in terms of user experience and maximizing product use!
Since you will be working with our french market you will also collaborate closely with our french team located in Marseille. For this position you can either work from our HQ in Malmö, or in our beautiful office in Marseille. 
Our mission is to become the worlds best support, where we respond our customer fast, find a solution quickly and always make them feel happy about the conversation. This is an ambitious goal, but we know that if we work together as a team nothing will stop us! 🚀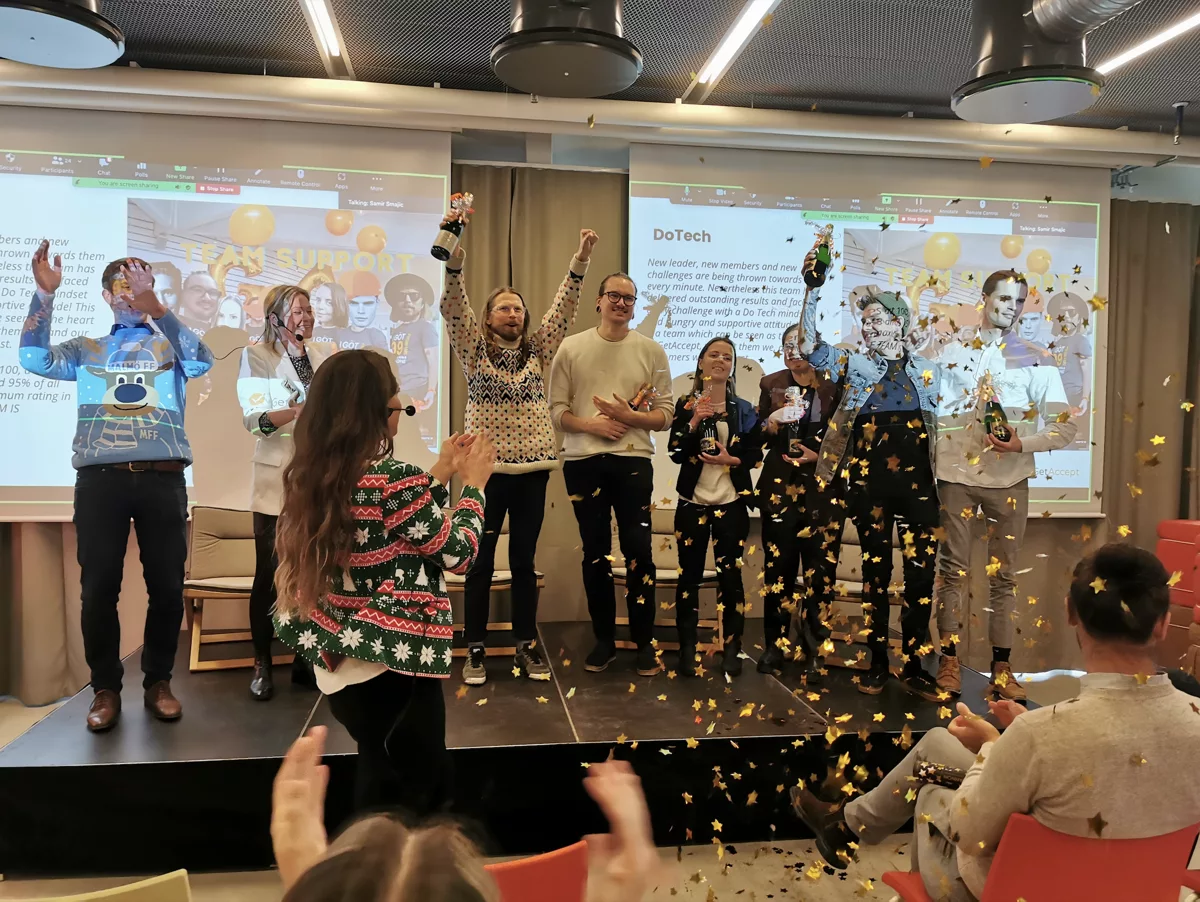 Last year our support team won the "Team of the year" award! I dare say it is a pretty amazing team to be a part of. 🧡
Is it you we are looking for?
If you have read this far with a good feeling in your gut and a smile on your face, chances are we are a match made in heaven! However, to love and thrive in this position, you would need to:
Be able to communicate fluently in French and English both written and verbally. If you also know Swedish, that will be a plus!
Have a thirst for tech, especially SaaS or software
Be comfortable and stay cool under pressure and against time constraints and systematic and analytical approach to problem-solving
Loves helping people and have a customer friendly way of communicating 
You are team-oriented, collaborative and - like us - believe in team wins!
As a colleague we believe that you are humble, curious and adaptable to change. Being a rapidly expanding SaaS-company means that we are fast-paced, always striving forward and eager to develop. Most importantly, we believe in succeeding together as a team!

We use ongoing selection for this recruitment and have no end date, so kindly send in your application today!
Department

Role

Customer Support

Locations
Other things we offer!
A strong company culture

Did we say that we like to have fun? Welcome to the company of themed events, parties, after works, company trips, workouts, hackatons and FredagsFika. We never miss an opportunity to celebrate or do something fun together!

Be a part of something special

Join our journey and create history together with us! We know that each and everyone of us are important for our growth and will have the chance to impact our business and future - for real.

Personal development

At GetAccept we want you to grow and develop, no matter which role you have! We offer weekly Boozt sessions within Sales, a GetNext career program and a mentorship program to make sure you feel stimulated and challenged, both personally and professionally.

A well thought out onboarding program

An exciting week where you'll meet the founders, representatives from all parts of the organisation and learn about our story, mission, values and culture. You will be introduced to the way we act, talk and what we believe in. You will learn about our product and, most importantly, the people behind it.
About GetAccept
Founded in 2015 by experienced entrepreneurs, we quickly gained traction as a Y Combinator funded company – one of the most prestigious startup-accelerators in the world. Since then, we have grown from a startup-challenger to becoming an industry leader within our area. GetAccept is a all-in-one digital sales room for your business dialogues. Share content, collaborate and negotiate with relevant stakeholders for a more engaging and personalized digital selling experience. Simplify your sales process with a tailor-made and trackable journey.
Operations
·
Malmö, Marseille
Product Support Professional - French speaking
Loading application form
Already working at GetAccept?
Let's recruit together and find your next colleague.