Designer with passion for UI
We usually respond within three days
Hi digital designer!👋🏽 Does this make you excited? 
✔️ Building elegant product design that impacts the way people do business online
✔️ Being smart about design choices by looking at data and metrics 
✔️ Getting busy with motion and transitional interfaces, creating unique user experiences
✔️ Actively engage in community of practice and elevate internal processess and design community 

Still nodding? Cool, you've come to the right place! Hit the apply button and let us tell you you more! 

At GetAccept, design lies close at our hearts, where it is our mission to create a world leading, modern digital sales experience in creative and innovative new ways. We are looking for a designer that's been around the block and are passionated about interactive, cutting edge design to join our team. 
Maybe it is you we are looking for? 🤓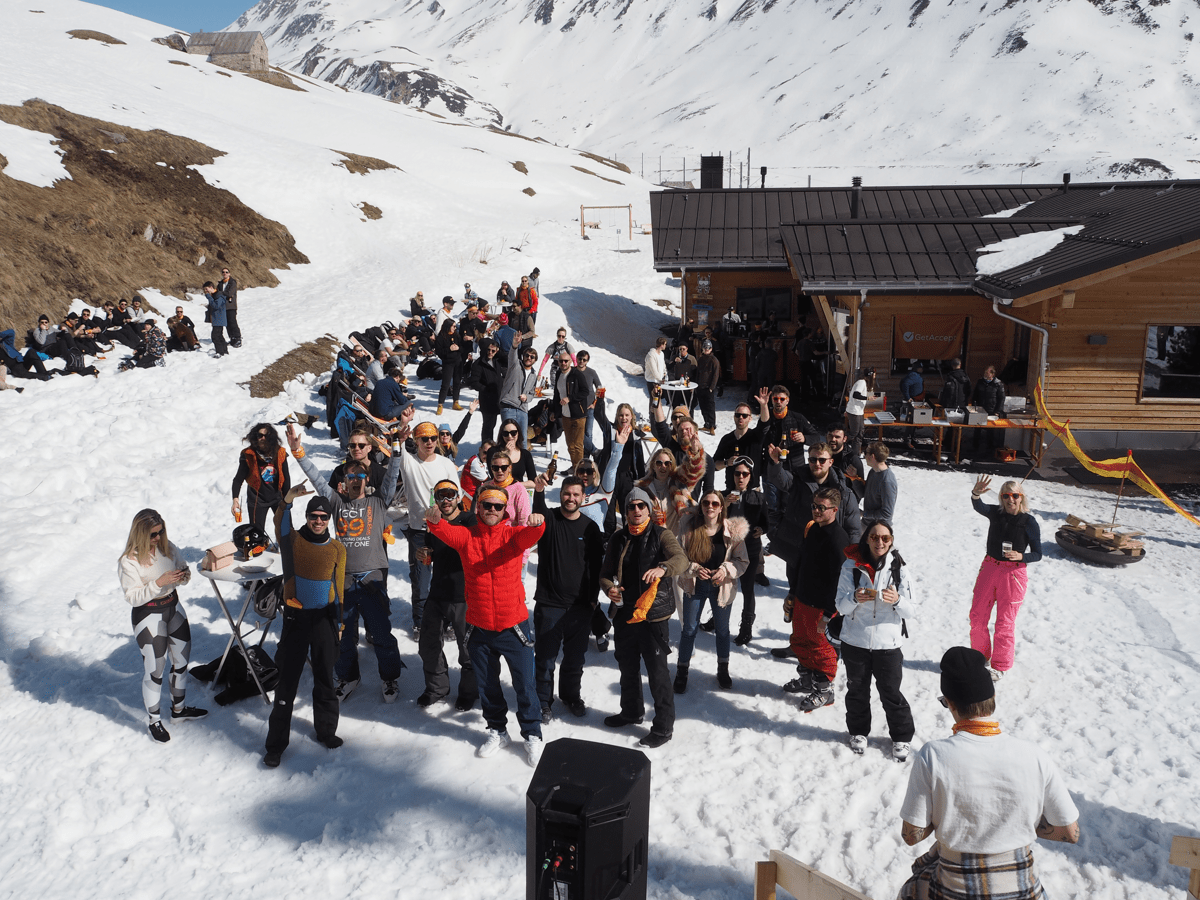 We recently went to the Swiss alps together! There is room for you too.


Let's get down to the nitty gritty! What it is all about:
Joining a scale-up company means that you will take an active part in shaping your own role. With a humble approach you will take ownership and drive your area of interest forward. Together with the rest of us, you will contribute towards shaping the direction of our design & product!


As a Designer with focus on UI, you will be working with:
Work in a cross-functional product team to champion a customer centric, hypothesis driven design process, geared towards business results.
Collaborating with product managers, engineers and users to understand needs, and provide creative, thoughtful solutions.
Leverage user research methods to gather insights, validate hypotheses and communicate internally.
Facilitating the development of strategic user experiences with the product team through workshops and studio activities.
Contributing to the improvement of the greater design team by collaborating, giving constructive feedback and sharing knowledge.

Is it you we are looking for?
If you've read this far with a smile on your face, chances are pretty good we are a perfect match for each other! We would also love it if you have the following background:
You have several years experience working with UX/UI design for both web & mobile.
You have experience working with all phases of the design process including UX research, workshop facilitation, idea generation & UI.
You are passionate about putting people in the center of everything you do.
You have the ability to analyze data and identify opportunities for improvement.
You feel comfortable using product software tools such as Figma, Adobe XD or similar.
The GetAccept Experience
At the end of the day, we are a group of friends, craftspeople and passionate problem solvers. We love to build new things and to reimagine the future of business - together. In your team you will work with other passionate designers, developers and PMs to create an out of the ordinary user experience, revolutionizing the world of B2B business. Sounds pretty amazing, right?
Together with 190 + colleagues we are helping companies world-wide close more deals by offering solutions within digital sales. But this is only the beginning - our vision is to become the number one platform for all B2B business and revolutionize the future of business.
A video says more that a thousand words right? Let's take a look!
Show me the perks! Things we offer:

A fun, stimulating and challenging opportunity where you will get a chance to learn, grow and develop professionally and personally
Did we say that we like to have fun? Welcome to the company of themed events, parties, after works, company trips, workouts and FredagsFika
Experience the pace and innovation inside a tech scale-up on a growth journey and establish important connections for your future career
An amazing HQ where we value a great working environment, with snack bars, cozy lounge areas and terrace lunches to name a few
Does this sound exciting? Apply and let's continue the dialogue! 🧡
We use ongoing selection for this recruitment and have no end date, so kindly send in your application today!
UX/UI Designer
Other things we offer!
A strong company culture

Did we say that we like to have fun? Welcome to the company of themed events, parties, after works, company trips, workouts, hackatons and FredagsFika. We never miss an opportunity to celebrate or do something fun together!

Be a part of something special

Join our journey and create history together with us! We know that each and everyone of us are important for our growth and will have the chance to impact our business and future - for real.

Personal development

At GetAccept we want you to grow and develop, no matter which role you have! We offer weekly Boozt sessions within Sales, a GetNext career program and a mentorship program to make sure you feel stimulated and challenged, both personally and professionally.

A well thought out onboarding program

An exciting week where you'll meet the founders, representatives from all parts of the organisation and learn about our story, mission, values and culture. You will be introduced to the way we act, talk and what we believe in. You will learn about our product and, most importantly, the people behind it.
About GetAccept
Founded in 2015 by experienced entrepreneurs, we quickly gained traction as a Y Combinator funded company – one of the most prestigious startup-accelerators in the world. Since then, we have grown from a startup-challenger to becoming an industry leader within our area. GetAccept is a all-in-one digital sales room for your business dialogues. Share content, collaborate and negotiate with relevant stakeholders for a more engaging and personalized digital selling experience. Simplify your sales process with a tailor-made and trackable journey.
Designer with passion for UI
Loading application form
Already working at GetAccept?
Let's recruit together and find your next colleague.