One of the world's fastest-growing SaaS companies ✔️
Be the category leader within our field ✔️
Find our next Account Manager to launch a new market...

👉🏽 That's where YOU come in!
And for that we need someone who will help us make the best-possible first impression on UK businesses. In other words, this role represents the first step in GetAccept's expansion into the UK!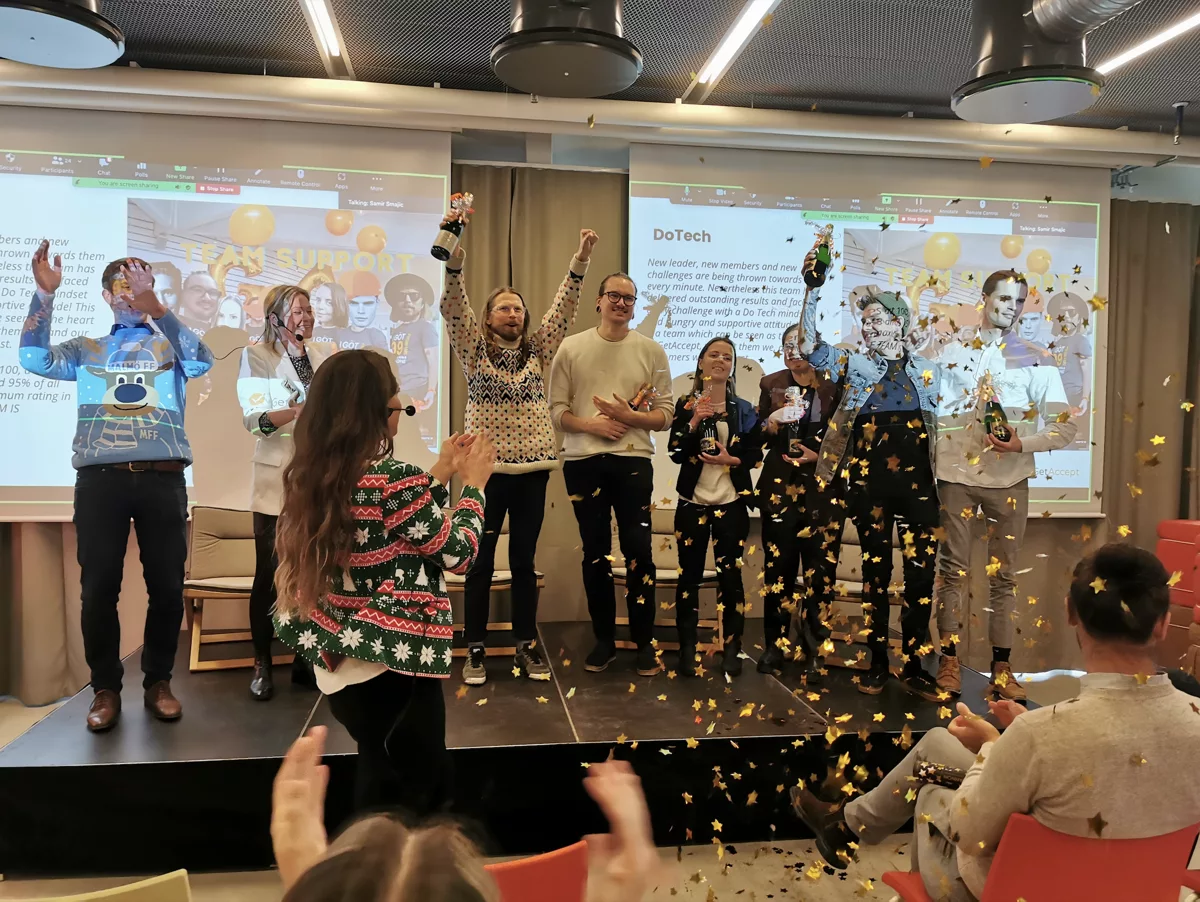 Welcome to GetAccept - we promise it will be challenging, rewarding and most of all fun!
Life at GetAccept 🧡
We believe that people matter and know that without the passion, innovation and dedication our employees put into their work every day we wouldn't be where we are today. Growing from 30 to +170 employees in three years would not have been possible without extraordinary people, who believe in our vision and our product. At GetAccept we are highly adaptable, constantly evolving and always challenging ourselves to be better!
Our platform is helping 3 000 companies, 50 000 users and 10 000 teams around the world closing more deals by offering solutions within e-signing, sales enablement, proposal templates and document tracking. But this is only the beginning - our vision is to become the number one Digital Sales Room in all B2B business 🚀

Cool. So what's the role about?🔥
Your primary focus will be to own the overall relationship with your customer portfolio and make sure that your customers are happy and keep on growing towards maximizing their GetAccept investment. You will have full commercial ownership of your customer portfolio! 
Here are some of the things you will do:
Identify up-sell, cross-sell and renewal opportunities in your existing portfolio of clients
Develop strategic relationships with customer accounts and collaborate closely with our Customer Success Team in terms of onboarding and engagement to make sure that your customer portfolio thrives in the best way possible!
Be creative in your use of digital selling - be compelling through video, LinkedIn, CRM and of course GetAccept
Work with our account executive team to identify new opportunities for business.
Play a key rolling in winning a new market that is key to the business' long term success
Since our biggest sales teams are located in Malmö, we would love it if you were too. However, you're welcome to work from any of our existing offices 🌏 You will collaborate closely with the UK Sales team and your closest leader will be Benjamin James, Sales Director UK
The GetAccept Experience 🧡
Even though we unite around our vision to revolutionize the future of business and being the category leader within digital sales, the true reason we jump out of bed on Monday mornings is the people. It is the employee experience. It is the Monday Breakfasts, the Friday Fikas, the Afterworks, the hackatons, the trips, the events, the community and the sense of family. It is going to work, knowing you are a valued part of our team where your ideas will be heard and where you will be an important and appreciated part of our success. It is a place for new challenges and never-ending-learnings. It is a place of growth, together with awesome people.

Psst! This spring we will go on an awesome business trip to the Swiss alps! You'll join us right? 😎

Is it you we are looking for? 🥇
If you have read this ad for this long with a smile on your face, we are surely a perfect match! However, we would love it if you identify with the following:
Previous SaaS Sales experience
As passionate about sales as you are about customer care! You sincerely believe that consultative sales IS an excellent service
A self-starter with a track record of successful lead follow up and sales development at multiple executive levels within an organization
Winning attitude - you are never satisfied but you are still able to see the wins
Sounds interesting? Hit the "Apply"-button and let's continue the dialogue! We work with ongoing selection and this add has no end date, so make sure to send in your application today! 🥳
Additional information
Remote status

Hybrid remote
Locations
London, Malmö, Aarhus, Copenhagen and Stockholm
We usually respond within three days
Or, know someone who would be a perfect fit? Let them know!